Custom Slipcovers, Cushions & Pillows
We craft custom slipcovers for used and well loved furniture. We also make custom covers for cushions and pillows as well as offering the foam, fiber and fabric for the project. 
Here is our process in a nutshell:
Step 1: EMAIL US info@harrisonhouseandhome.com
Include a picture, rough measurements and as much detail as possible about what you would like. We will respond with questions, suggestions, and provide a rough estimate for the cost of the project. *please allow 24-48 response time
Step 2: CHOOSING FABRIC.
We offer fabrics!  Let us know what you want in terms of color, texture, pattern etc. and we can pull together some options for you. *We will also need to discuss how you plan to wash it as some fabrics are dry clean only.
Step 3: INITIAL FITTING.
Once fabric is in we can schedule an initial fitting.  At this point we would ask for a 50% deposit, the rest to be due upon final delivery. *Some areas may be subject to a travel fee
Step 4: FINAL DELIVERY.
Upon completion. We will reach out to schedule a final delivery where we will put the new cover on and make sure it fits snug and proper.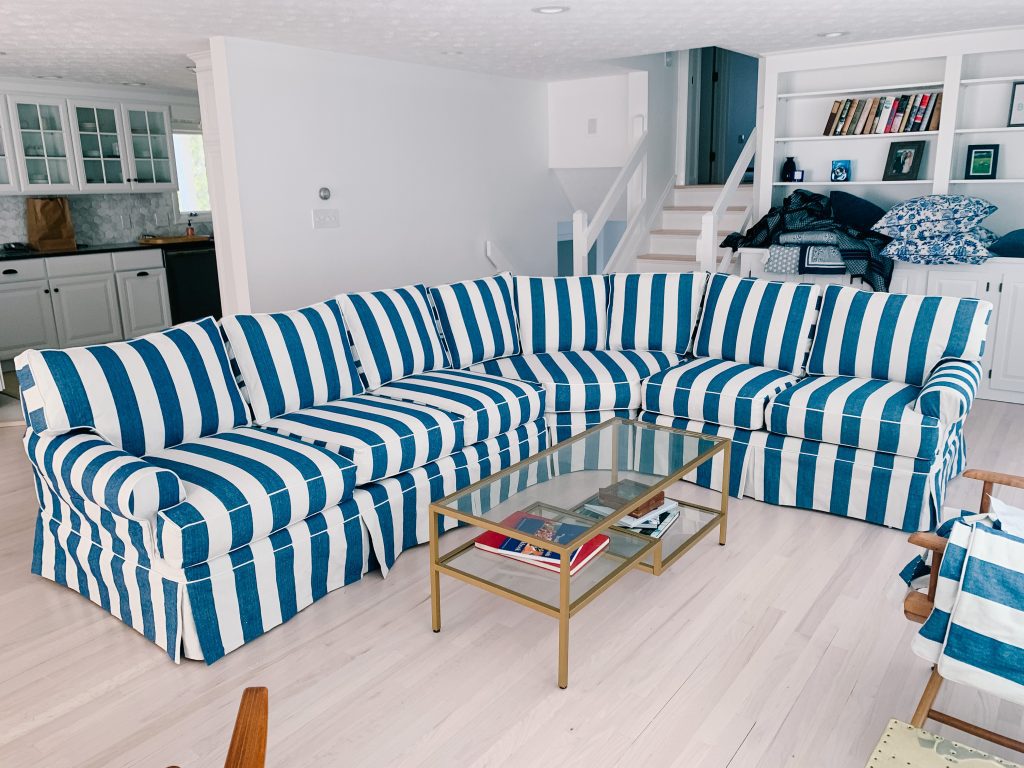 Tell us what you're looking for in a fabric! I.e., Color, texture, pattern etc. Even better, send us an inspiration pic! We offer a variety of fabrics in-house or through exclusive vendors that are quality and affordable. When choosing your fabric there are a lot of things to consider:
CLEANING YOUR COVER – How you plan to care for your slipcovers plays a big roll in your fabric choice. If you plan to wash your covers yourself you will need to purchase pre-washed fabric or washable fabric that you (or we) wash before we pin-baste our patterns. Otherwise you should plan to have your covers dry cleaned.
WEIGHT OF YOUR FABRIC – The weight of your fabric is another consideration. You will want a fabric that is a middle to heavy weight. Some good examples are brushed twills, denims, duck clothes and high performance (stain, moisture, sun resistant). We love to work with patterns as well. If you find a fabric with a pattern that you just have to have, please feel free to give us a call and we can discuss whether or not it will work.
TUCKING IN YOUR COVER – You do NOT want to purchase an upholstery backed fabric. It is the nature of a slipcover to have to tuck it in. A stiff, bulky fabric prohibits a clean "tuck-in". Depending on the use of your slipcover the frequency of tucking may vary. Our goal, is for you to not have to think about tucking in until it's time to wash.
AMOUNT OF FABRIC – Please refer to the yardage chart for the amount of fabric you will need. Keep in mind that if you choose a fabric with a repeat (print) you will have to purchase more fabric according to what that repeat is. There is a conversion chart at the bottom of the yardage chart..
| | |
| --- | --- |
| standard ottoman | 2 yards |
| oversized ottoman | 3 yards |
| dining room chair | 3 yards |
| armless boudoir chair | 3 yards |
| boudoir chair | 6 yards |
| barrelback chair | 7 yards |
| one cushion club chair | 8 yards |
| two cushion club chair | 9 yards |
| low wingback | 8 yards |
| high wingback | 9 yards |
| chaise lounge | 13 yards |
| two cushion loveseat (60″ wide) | 13 yards |
| four cushion loveseat (60″ wide) | 16 yards |
| two cushion sofa (84″ wide) | 16 yards |
| three cushion sofa (84″ wide) | 17 yards |
| four cushion sofa (84″ wide) | 18 yards |
| six cushion sofa (84″ wide) | 20 yards |
 Yardage can vary according to repeat patterns on fabrics with prints. If your fabric has a repeat of more than 5 inches, you should add to the yardage according to the chart below. If your fabric has both a horizontal and vertical repeat, you should use the larger amount. Standard fabric width is 54 inches. If your fabric is not 54″ wide, contact me and we can discuss the difference in yardage.
Increase yardage by the following percentages according to the size of your pattern repeat:
| | | | | | |
| --- | --- | --- | --- | --- | --- |
| 3″-14″ | 15″-19″ | 20″-27″ | 28″-36″ | 37″-45″ | 46″-54″ |
| repeat | repeat | repeat | repeat | repeat | repeat |
|   |   |   |   |   |   |
| 10% | 15% | 20% | 25% | 30% | 35% |
SERVICING 
Portland • South Portland • Yarmouth • North Yarmouth • Falmouth • Cape Elizabeth • Scarborough • Saco • Gorham • Windham • Gray • Cumberland • Brunswick • Freeport • Biddeford • Kennebunk • Kennebunkport • Wells • York • Portsmouth, NH